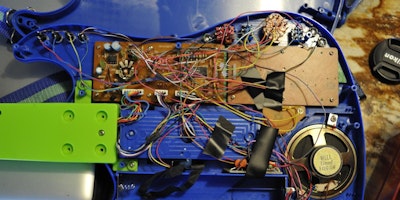 Buy Tickets
The New Music Conflagration, Inc. will preset St. Petersburg composer and multi-instrumentalist, Erich Barganier, in concert featuring a series of…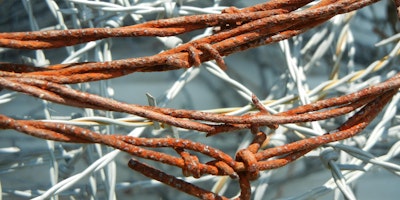 Buy Tickets
This series will cover the forbidden music of the Third Reich, primarily composers of Jewish descent who were silienced or…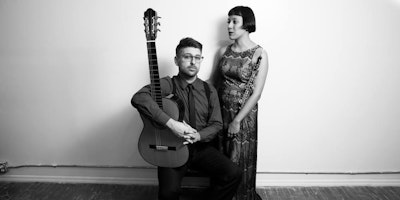 Buy Tickets
Beatriz is the "Ramirez" in Belt & Ramirez. Her principal teachers are David Bourns, Jamie Strefeler, and Stephen Taylor, who…
Latest Event Updates
Michael Gordon
July 20, 1956 – Miami Beach, FL, USA
"Michael Gordon merges subtle rhythmic invention with incredible power in his music, embodying, in the words of The New Yorker's Alex Ross, "the fury of punk rock, the nervous brilliance of free jazz and the intransigence of classical modernism." Over the past 25 years, Gordon has produced a strikingly diverse body of work, ranging from large-scale pieces for high-energy ensembles and major orchestral commissions to works conceived specifically for the recording studio. Transcending categorization, this music represents the collision of mysterious introspection and brutal directness. The Seattle Symphony, Orchestra of the Age of Enlightenment, and Yarn/Wire all present world premieres of Gordon's work in 2015-16. Other 2015-16 highlights include the the UK premiere of "Ode to La Bruja…" performed by Grand Band, the Asian premiere of Timber by Mantra Percussion, the German premiere of The Carbon Copy Building, Rushes at the Park Avenur Armory, and Trance choreographed by Maud le Pladec in Rennes, France.
Michael Gordon's enthusiasm for adding dimensionality to the traditional concert experience has led to numerous collaborations with artists in other media, most frequently with filmmaker Bill Morrison and Ridge Theater. Decasia, a Gordon-Morrison collaboration in which the audience is encircled by the orchestra and large projections, will be performed three times this spring, in Groningen, Rotterdam, and Spoleto USA. A large-scale, single-movement, relentlessly monumental work about decay — the decay of melody, tuning, and classical music itself — Decasia has become a cult favorite since its premiere in 2001 and was added to the Library of Congress National Film Registry in 2013, becoming the first film of the 21st century to receive that honor. Gordon and Morrison's works together also include two film symphonies centered on cities: Dystopia (about Los Angeles) in 2008 for David Robertson and the Los Angeles Philharmonic, and Gotham (about New York City) in 2004 for the American Composers Orchestra. The pair premiere El Sol Caliente, a city symphony in honor of Miami Beach's centennial, this spring, and will embark on a new collaboration with the Seattle Symphony in 2016.
Gordon has been commissioned by Lincoln Center, Carnegie Hall, the BBC Proms, the Seattle Symphony, the Orchestra of the Age of Enlightenment, Brooklyn Academy of Music, and the Sydney 2000 Olympic Arts Festival, among others. His music has been featured prominently in the dance works of Emio Greco | PC, Wayne McGregor (for Stuttgart Ballet, Random Dance), Pina Bausch's Tanztheater Wuppertal, Heinz Spoerli (for Zürich Ballet), Ashley Page (for The Royal Ballet and The Scottish Ballet), and Club Guy & Roni. The recipient of multiple awards and grants, Gordon has been honored by the Guggenheim Foundation, the National Endowment for the Arts, the Foundation for Contemporary Performance Arts, and the American Academy of Arts and Letters. His recordings include Rushes, Timber, Weather, Light is Calling, Decasia, (purgatorio) POPOPERA, Van Gogh, Trance, and Big Noise from Nicaragua. An album of his orchestral works will release on Cantaloupe in February 2015, including Dystopia and Rewriting Beethoven's Seventh Symphony, with Gotham releasing digitally at the same time.
Formed in 1983 as the Michael Gordon Philharmonic and renamed the Michael Gordon Band in 2000, Gordon's own ensemble has performed across Europe and the United States at venues as diverse as Alice Tully Hall and the punk mecca CBGB, on the Contemporary Music Network Tour, and at the Almeida Festival in London.
Gordon is co-founder and co-artistic director of New York's legendary music collective Bang on a Can. His music is published by Red Poppy Music (ASCAP) and is distributed worldwide by G. Schirmer, Inc." – michaelgordonmusic.com
Phil Kline
Akron, OH, USA
"Phil Kline is a composer and sound artist, who makes music in many genres and contexts, from experimental electronics and sound installations to songs, choral, theater, chamber and orchestral music.
Raised in Akron, Ohio, he came to New York to study English Literature and music at Columbia. After graduation, he dived into the downtown New York arts scene: founding the rock band The Del-Byzanteens with Jim Jarmusch and James Nares, collaborating with Nan Goldin on the soundtrack to The Ballad of Sexual Dependency, and playing guitar in the notorious Glenn Branca Ensemble.
His early compositions grew out of his solo performance art and often used boombox tape players as a medium, most notably in the Christmas piece Unsilent Night, which debuted in the streets of Greenwich Village in 1992 and is now performed annually in dozens of cities around the world.
Other notable early compositions include Zippo Songs, a song cycle for Theo Bleckmann, based on poems Vietnam vets inscribed on their Zippo lighters, The Blue Room and Other Stories, written for string quartet Ethel, and Exquisite Corpses, commissioned by the Bang on a Can All-Stars. The music theater spectacle, Locus solus, based on the novel by Raymond Roussel, was presented at the Ryerss Mansion Museum in Philadelphia in 2006.
More recent works include the Mass John the Revelator, written for vocal group Lionheart; The Long Winter, written for pianist Sarah Cahill; and scores for three evening-length dance pieces by Wally Cardona: Everywhere, Site and Really Real. The sound installation World on a String opened the season at the Krannert Center in Champaign-Urbana, Illinois, in September 2007 and SPACE for string quartet and electronics was performed by Ethel at the gala reopening of Alice Tully Hall in 2009.
2011 saw the premieres of A Dream and its Opposite, written for the La Jolla Symphony Orchestra, Canzona a due Cuori, commissioned by the St. Luke's Chamber Ensemble, and a book of organ pieces commissioned for the gigantic Kotschmar Organ of Portland, Maine. A new monodrama for Theo Bleckmann, Out Cold, premiered at the BAM Next Wave Festival in October 2012.
Kline is currently working on an opera, Tesla in New York, in collaboration with writer-director Jim Jarmusch. He lives on the Lower East Side of Manhattan with his wife and daughter." – philkline.com
Steve Roden
1964, Los Angeles, CA, USA
"Steve Roden is a visual and sound artist from Los Angeles, living in Pasadena. His work includes painting, drawing, sculpture, film/video, sound installation, text and performance.
Roden's working process uses various forms of specific notation (words, musical scores, maps, etc.) and translates them through self invented systems into scores, which then influence the process of painting, drawing, sculpture, and composition. These scores, rigid in terms of their parameters and rules, are also full of holes for intuitive decisions, failures and left turns. The inspirational source material becomes a kind of formal skeleton that the abstract finished works are built upon.
In the visual works, translations of information such as text and maps, become rules and systems for generating visual actions such as color choices, number of elements, amounts of time and form building.
In the sound works, singular source materials such as objects, architectural spaces, and field recordings, are abstracted through humble electronic processes to create new audio spaces, or possible landscapes. The sound works present themselves with an aesthetic Roden has described as lower case – sound concerned with subtlety and the quiet activity of listening.
Roden has been exhibiting his visual and sound works since the mid 1980′s, and has had numerous solo and group exhibitions internationally, including: Mercosur Biennial Porto Alegre Brazil, Centre Georges Pompidou Paris, San Diego Museum of Contemporary Art, UCLA Hammer Museum Los Angeles, Museum of Contemporary Art EMST Athens Greece, Singuhr-Horgalerie in Parochial Berlin, Center for Book Arts New York, The Kitchen New York, Pomona College Museum of Art, La Casa Encendida Madrid, Susanne Vielmetter LA and Berlin Projects, Studio la Citta Verona Italy, and others. In 2010, curator Howard Fox organized the exhibition "steve roden / in between: a 20 year survey", which opened at the Armory Center for the Arts in Pasadena, and was accompanied by a full color catalog.
Roden has performed his soundworks at various arts spaces and experimental music festivals worldwide including: Serpentine Gallery London, San Francisco Museum of Modern Art, Walker Art Center, Minneapolis, DCA Dundee Scotland, Redcat Los Angeles, Crawford Gallery Cork Ireland, as well as performance tours of Brazil and Japan. Recent performances include John Cage's Cartridge Music with composer Mark Trayle at the Norton Simon Museum in Pasadena, and a tribute to Rolf Julius at the Hamburger Banhof Berlin. Since 1993, Roden has released numerous CDs under his own name as well as under the moniker "in be tween noise" on various record labels internationally.
Recent has created numerous site-specific sound works for spaces such as MOCA at the Pacific Design Center in response to a group of paintings by Mark Rothko, the Henry Art Gallery's James Turrell Skyspace, the Mak center for Art and Architecture/Schindler House in Los Angeles, a live collaboration with Stephen Vitiello in a room of 50 pieces of sculpture by Donald Judd at Chinati, Daniel Libeskind's Run Run Shaw new media building at City University of Hong Kong, a sound/sculpture/drawing installation for Thomas U. Walter's 1848 building at Girard College Philadelphia for the Hidden City festival, and a permanent public artwork at Hayvenhurst Park, in West Hollywood California.
In 2008, the Getty Research Center, the Museum of Contemporary Art Los Angeles (MOCA) and Los Angeles Contemporary Exhibitions (LACE), commissioned Roden to direct a reconstruction/reinvention of Allan Kaprow's seminal performance "18 Happenings in 6 Parts". Collaborators and participants included: Michael Ned Holte, Simone Forti, Rae Shao-Lan Blum, Steve Irvin, Flora Wiegmann, Stephanie Smith, Elonda Billera, Skylar Haskard, Roy Dowell, Renee Petropoulos, Justin Lowman, Elizabeth Leister, Fran Siegel, Brad Eberhard, Mark Dutcher, Doug Harvey, Steve DeGroodt, David McDonald, Paul McCarthy, Vaughn Rachel, Corel Kaprow, Carol Stakenas, and Martin Kersels
In 2011, the Atlanta based record label Dust to Digital published Roden's "I Listen to the Wind that Obliterates My Traces" – a 250 page hardback book containing hundreds of music related photographs from 1860-1930, along with 2 discs of rare recordings of early American music culled from Roden's archive, and an essay on archives, collecting and listening. The book has received praise from the Los Angeles Times, Chicago Reader, Record Collector, Pitchfork, and others.
From 1979-82 Roden was the lead singer of the Los Angeles Punk band "Seditionaries". The band performed at numerous clubs and non-club spaces in the Southern California area including the Troubador, Cathay de Grande, T-Bird Rollerdome, Godzillas, HJ's, LA Press Club, and numerous garages. The band performed with many immortals such as the Damned, TSOL, Sacharine Trust, Minutemen, Alley Cats, 45 Grave, Urban Gorillaz, Social Distortion, Circle Jerks, Adolescents, DOA, Mau Maus, etc.
Roden received his MFA from Art Center College of Design in Pasadena, CA in 1989, and his BFA from Otis Parsons in Los Angeles in 1986. Over the past 15 years he has taught both graduate and undergraduate courses at numerous Southern California institutions including: UCLA, Art Center College of Design, Otis College of Art, Claremont Graduate University, UC Santa Barbara, Cal State Long Beach, and others. He has lectured and/or been a visiting artist at numerous universities including: Harvard, Columbia College NY, University of Illinois Chicago, University Southern California, Cal Arts, San Francisco Art Institute, University Texas Austin, Virginia Commonwealth University, and others.
Roden's works are in the permanent collection of the following institutions: The Los Angeles County Museum of Art, Los Angeles, CA; The Museum of Contemporary Art San Diego, San Diego, CA; The Museum of Contemporary Art, Los Angeles, CA; The Henry Art Gallery, Seattle, WA; The Blanton Museum of Art at the University of Texas, Austin, TX; The Palm Springs Museum, Palm Springs, CA; The Pomona College Museum of Art, Pomona, CA; The ASU University Art Museum, Tempe, AZ; The National Museum of Contemporary Art, Athens, Greece.
Roden's artwork is currently represented through Susanne Vielmetter LA Projects, Los Angeles; and CRG Gallery, New York." – inbetweennoise.com
Augusta Read Thomas
April 24, 1964 – Glen Cove, NY, USA
"The music of Augusta Read Thomas (b. 1964 in New York) is nuanced, majestic, elegant, capricious, lyrical, and colorful — "it is boldly considered music that celebrates the sound of the instruments and reaffirms the vitality of orchestral music." (Philadelphia Inquirer)
In February 2015, music critic Edward Reichel wrote, "Augusta Read Thomas has secured for herself a permanent place in the pantheon of American composers of the 20th and 21st centuries. She is without question one of the best and most important composers that this country has today. Her music has substance and depth and a sense of purpose. She has a lot to say and she knows how to say it — and say it in a way that is intelligent yet appealing and sophisticated."
The New York Times article of March 6, 2015 states that Thomas had the distinction of having her work performed more frequently in 2013-2014 than any other living ASCAP composer, according to statistics from the performing rights organization. Former Chairperson of the American Music Center, she serves on many boards, is a generous citizen in the profession at large, and, according to the American Academy of Arts and Letters, "has become one of the most recognizable and widely loved figures in American Music."
A Grammy winner, her impressive body of works embodies unbridled passion and fierce poetry. The New Yorker magazine called her "a true virtuoso composer." Championed by such luminaries as Barenboim, Rostropovich, Boulez, Eschenbach, Salonen, Maazel, Ozawa, and Knussen, she rose early to the top of her profession.
An influential teacher at Eastman, Northwestern, Tanglewood, and Aspen Music Festival, she is only the 16th person to be designated University Professor at the University of Chicago (one of only seven currently holding the title). Augusta said, "Teaching is a natural extension of my creative process and of my enthusiasm for the music of others."
Thomas was the longest-serving Mead Composer-in-Residence with the Chicago Symphony, for Daniel Barenboim and Pierre Boulez, from 1997 through 2006. This residency culminated in the premiere of Astral Canticle, one of two finalists for the 2007 Pulitzer Prize in Music. During her residency, Thomas not only premiered nine commissioned orchestral works, but was also central in establishing the thriving MusicNOW series, through which she commissioned and programmed the work of many living composers.
Recent and upcoming commissions include those from the Boston Symphony, the Utah Symphony, Wigmore Hall in London, JACK quartet, Third Coast Percussion, Tanglewood, the Danish Chamber Players, Notre Dame University, and the Fromm Foundation. She won the Ernst von Siemens Music Prize, among many other coveted awards. She is a member of the American Academy of Arts and Sciences, and a member of the American Academy of Arts and Letters.
Ms. Thomas studied composition with Oliver Knussen at Tanglewood (1986, 1987, 1989); Jacob Druckman at Yale University (1988); Alan Stout and Bill Karlins at Northwestern University (1983-1987); and at the Royal Academy of Music in London (1989). She was a Junior Fellow in the Society of Fellows at Harvard University (1991-94), and a Bunting Fellow at Radcliffe College (1990-91). Thomas has also been on the Board of Directors of the American Music Center since 2000, as well as on the boards and advisory boards of several chamber music groups. She was elected Chair of the Board of the American Music Center, a volunteer position that ran from 2005 to 2008. She is University Professor (one of six University Professors) at The University of Chicago. Augusta was MUSICALIVE Composer-in-Residence with the New Haven Symphony, a national residency program of The League of American Orchestras and Meet the Composer. Augusta has been on the Board of the ICE (International Contemporary Ensemble) for many years; is a member of the Advisory Committee of the Alice M. Ditson Fund; is on the Board of Trustees of The American Society for the Royal Academy of Music; is a Member of the Conseil Musical de la Foundation Prince Pierre de Monaco; and is on the Eastman School of Music's National Council." – augustareadthomas.com
Chen Yi
April 4, 1953 – Guangzhou, China
"As a prolific composer who blends Chinese and Western traditions, transcending cultural and musical boundaries, Dr. Chen Yi is the recipient of the prestigious Charles Ives Living Award from the American Academy of Arts and Letters in 2001. She is the Cravens/Millsap/Missouri Distinguished Professor at the Conservatory of Music and Dance at the University of Missouri-Kansas City, and UMKC Kauffman Award in Faculty Service (2012) and was elected to the American Academy of Arts & Sciences in 2005.
Born in China, Chen Yi has received bachelor and master degrees in music composition from the Central Conservatory in Beijing, and Doctor of Musical Arts degree from Columbia University, New York, NY. Her composition teachers have included Wu Zu-qiang, Chou Wen-chung, Mario Davidovsky, and Alexander Goehr. She has served as Composer-in-Residence for the Women's Philharmonic, the vocal ensemble Chanticleer, & Aptos Creative Arts Center (93-96) supported by Meet The Composer, and as a member of the composition faculty at Peabody Conservatory of Johns Hopkins University (1996–98).
Fellowships and commissioning awards have been received from Guggenheim Foundation (96), American Academy of Arts and Letters (96), Fromm Foundation at Harvard University (94), Koussevitzky Music Foundation at the Library of Congress (97), and National Endowment for the Arts in the United States (94). Honors include a first prize from the Chinese National Composition Competition (85), the Lili Boulanger Award (93), the NYU Sorel Medal Award (96), the CalArts/Alpert Award (97), the UT Eddie Medora King Composition Prize (99), the ASCAP Concert Music Award (01), the Elise Stoeger Award (02) from Chamber Music Society of Lincoln Center, the Friendship Ambassador Award from Edgar Snow Fund (02), Honorary Doctorates from Lawrence University (02), Baldwin-Wallace College (08), University of Portland (09), The New School University (10). She has been appointed by the China Ministry of Education to the prestigious Cheung Kong Scholar Visiting Professor at the Beijing Central Conservatory of Music in 2006, and Thousand talents Distinguished Visiting Professor at the Tianjin Conservatory of Music (2012-2015).
Her music is published by Theodore Presser Company, performed world wide, and recorded on Bis (02, 03, 04, 11), New Albion (97), CRI (99), Teldec (97, 99 w/ Grammy Award for Colors of Love, 03, 08), Nimbus (93/00), Cala (95), Avant (98), Atma (99), Hugo (00), Angel (01), Albany (04, 05, 06, 09), Koch International Classics (04), Delos (04), Centaur (04, 05), Eroica (05), Capstone (06), Quartz (07), China Record Co. (86, 90), New World (08, 09 w/ NPR Top 10 Classical Music Album Award for Sound of the Five) and Naxos (08, 09), among many others." – from the University of Missouri
Judith Lang Zaimont
November 8, 1945 – Memphis, TN, USA
"Judith Lang Zaimont's music is internationally acclaimed for its drama and expressiveness and has been programmed around the globe by major ensembles such as the Philadelphia Orchestra, Baltimore and Mississippi Symphonies, Berlin Radio Orchestra, Czech Radio Orchestra, Kremlin Chamber Orchestra, Women's Philharmonic, Connecticut Opera, New York Virtuosi, Pro Arte Chamber Orchestras (New York and Boston), American Guild of Organists, Harlem String Quartet, International Double Reed Society, World Viola Congress, Norway's Bergen Wind Quintet, Zagreb Saxophone Quartet and others. Her 100+ works cover almost every genre: three symphonies, chamber opera, music for wind ensemble, works for solo voice and choral ensembles, and solo instrumental and chamber pieces. Zaimont has been widely honoured through composer prizes (including the Gottschalk International Competition first prize: Gold Medal and International McCollin Competition first prize), and awards (including a Guggenheim Fellowship, 2003 Aaron Copland Award, and 2005 Bush Foundation Fellowship). Two of her works were named to Century Lists: Doubles – 1993 (oboe and piano: Chamber Music America), and Sonata – 1999 (Piano & Keyboard magazine); and her pieces have been selected as required repertoire for international performance competitions in voice, piano and conducting. Her music is widely recorded (Naxos, Koch Classical, Harmonia Mundi, MSR, Albany, Leonarda, Arkiv Music, and 4-Tay) and her principal publisher is Subito Music Corp. After a teenage career as a concert pianist, Judith Zaimont completed college and graduate study in composition (City University of New York; Columbia University), and postgraduate study in orchestration in Paris with André Jolivet (as a Debussy Fellow of the Alliance Française de New York). This led to a distinguished musical career as educator (Peabody Conservatory, CUNY, Adelphi University and the University of Minnesota) and parallel contributions as writer and editor. Her books include the three-volume Greenwood Press series, The Musical Woman: An International Perspective, and her essays on music appear online in NewMusicBox (American Music Center's magazine) and in various professional print journals." – from Naxos
Tania León
May 14, 1943 – Havana, Cuba
"Tania León, (b. Havana, Cuba) is highly regarded as a composer and conductor and recognized for her accomplishments as an educator and advisor to arts organizations. She has been profiled on ABC, CBS, CNN, PBS, Univision, Telemundo, and independent films.
León's opera Scourge of Hyacinths, based on a play by Wole Soyinka with staging and design by Robert Wilson, received over 20 performances throughout Europe and Mexico. Commissioned by Hans Werner Henze and the city of Munich for the Fourth Munich Biennale, it took home the coveted BMW Prize. The aria "Oh Yemanja"("Mother's Prayer") was recorded by Dawn Upshaw on her Nonesuch CD, "The World So Wide."
Commissions include works for Ursula Oppens and the Cassatt Quartet, Nestor Torres, Orpheus Chamber Orchestra, New World Symphony, Koussevitzky Foundation, Fest der Kontinente (Hamburg, Germany), Cincinnati Symphony, National Endowment for the Arts, NDR Sinfonie Orchester, American Composers Orchestra, The Library of Congress, Ensemble Modern, The Los Angeles Master Chorale, and The Kennedy Center for the Performing Arts, among others.
Her works have been performed by such orchestras as the Gewaundhausorchester, L'Orchestre de la Suisse Romande, the China National Symphony, and the NDR Orchestra. She has collaborated with authors and directors including John Ashbury, Margaret Atwood, Rita Dove, Jamaica Kincaid, Mark Lamos, Julie Taymor, and Derek Walcott.
León has appeared as guest conductor with the Symphony Orchestra and Chorus of Marseille, the Orquesta Sinfonica de Asturias, L'Orchestre de la Suisse Romande, Orquesta Filarmonica de Bogota, the Gewaundhausorchester, Chamber Orchestra of Geneve, Switzerland, the Guanajuato Symphony Orchestra, Mexico, Symphony Orchestra of Johannesburg, and the WaZulu-Natal Philharmonic Orchestra, South Africa, as well as the Orquesta de la Comunidad y Coro de Madrid, and the New York Philharmonic, among others.
She has lectured at Harvard University and at the prestigious Mosse Lecture series at the University of Humboldt in Berlin and was the Andrew Mellon Foundation's Distinguished Scholar at the Witwatersrand University in Johannesburg, South Africa. León was also Visiting Professor at Yale University, Guest Composer/Conductor at the Hamburg Musikschule, Germany and the Beijing Central Conservatory, China.
A founding member of the Dance Theatre of Harlem, León instituted the Brooklyn Philharmonic Community Concert Series, co-founded the Sonidos de las Américas festivals with the American Composers Orchestra, and is the founder of Composers Now festival in New York City. She also served as Latin American Advisor to the American Composers Orchestra and New Music Advisor to the New York Philharmonic.
León has also received Honorary Doctorate Degrees from Colgate University, Oberlin, and SUNY Purchase College, and has served as U.S. Artistic Ambassador of American Culture in Madrid, Spain. A Professor at Brooklyn College since 1985 and at the Graduate Center of CUNY, she was named Distinguished Professor of the City University of New York in 2006. In 2010 she was inducted into the American Academy of Arts and Letters.
Her honors include the New York Governor's Lifetime Achievement Award, Symphony Space's Access to the Arts, the American Academy of Arts and Letters Award, and the Fromm, Koussevitzky, and Guggenheim Fellowships. In 2012 she received both a Grammy nomination (for "Best Contemporary Classical Composition") and a Latin Grammy nomination (for "Best Classical Contemporary Composition") and in 2013 she was the recipient of the prestigious 2013 ASCAP Victor Herbert Award." – tanialeon.com